Choose product to view detailed information:
Limestone

Limestone is a rock made up of mostly calcite. Calcite is a mineral form of calcium carbonate. Most fresh water and seawater contain dissolved calcium carbonate. Limestone is formed when the calcium carbonate crystallizes out of solution. There are generally two groups of limestone.
The first group includes limestone that has formed without the aid of organisms. Evaporating water forces this kind of limestone out of solution. A "lime" mud is deposited on the bottom of the sea. This white mud slowly hardens into a light-colored limestone with a fine grain and even layers, thus the explanation of why limestone is generally softer than other stone materials. Limestone can also form on land when water evaporates leaving calcium carbonate to form a crust over moss, dead leaves, and the ground.
The second group of limestone is formed through the aide of organisms. Many aquatic organisms such as oysters, clams, snails, corals, and sea urchins have shells and bones constructed of calcium carbonate. When the animals die, their shells and bones are broken up by waves into a mud. The mud forms layers like the spontaneous kind of limestone.
Limestone is excellent for building because it can be easily carved thus also being known as freestone.

Technistone

Technistone is an engineered form of recycled stone. It is a compilation of quartz, granite or recycled mirrored chips with stain resistant resin. This ˘man made stone÷ seems to portray all of the characteristics of granite being expected to be even stronger and more durable, however it may not be as heat resistant. Techinistone provides the ability to stay consistent with color. Unlike granite, there aren't any veins or movements within the stone. Technistone is the other alternative a mirrored image of natural beauty.

Fireplaces / Mantels

Fireplaces and Mantels can be a superb addition to any room. Fireplaces can be carved from a block of stone and installed as a whole. Existing fireplaces can be beautified by the addition of granite or marble. A stone enhanced fireplace cannot even be compared to just an ordinary fireplace or mantel. Keep in mind that whole slabs give a more elegant look than tiles from the exact same stone. Chicago charter limousine service Barstow ...

Floor Inserts

Adding a floor insert can really bring out the hidden beauty in an ordinary floor.

Nuheat Pads

These state-of-the-art heat pads offer 88-92 degrees of warmth under floor tiles, leaving them comfortable enough for your bare feet. You will no longer have to worry about leaving your warm bed only to find a frozen floor. The warm comfort of Nuheat Pads offers the perfect touch to your natural stone floors.
Click here for more information on Nuheat Pads
Sinks

Whether for your kitchen or bath, under-mount or over-mount, Granite City Co. offers a large selection of the best sinks sure to meet everyoneňs criteria and tastes. Remember that under-mount sinks not only improve your investment but add that extra touch of beauty to your kitchen or bath. They are also the easiest to maintain when it comes to cleaning.

Faucets

Just the right faucet adds the perfect finishing touch to your kitchen or bath leaving you with a sense of dependability.

Stone Care Products

Making sure that your stone always looks its best, capturing its beauty forever, Granite City Co. offers full line of high quality stone care products. Visit our store or contact us for detailed information.
Borders, mosaics, moldings and medallions

Natural stone is the perfect solution for virtually all of your needs, including home decor.

Tiles

Changing that boring tile edge to something more sleek and elegant gives a complete and professional new look. Custom edges are always an option. Consider the fact that other tile surfaces are available. For example, honed, brushed, and flamed. Inquire for details.
Edges
These are the most popular edges for bathrooms, kitchens and fireplaces. Custom edges are always an option.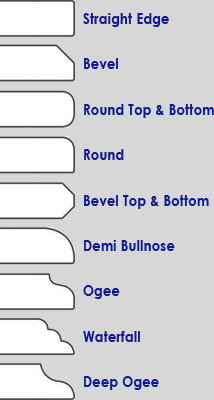 CUSTOM JOBS ARE ALWAYS WELCOME!
*For prices, please contact us as special discounts and offers may apply. Availability of a certain stone may also have an affect on the pricing just as the quality and color.